JANE SOUTHWARD met Denis-Smith in London to talk about the First 100 Years initiative and her passion for a new approach to working in law.
Dana Denis-Smith can pick her timing. Just weeks after she launched her new legal business in 2010 with £500 of her own money to market it, she discovered she was pregnant with her first child.
Fast forward eight years and Obelisk Support is now a multi-million dollar business with 12 permanent staff in London and 1,500 lawyers around the world, mainly women who take on freelance legal work, mostly in the commercial sphere. Denis-Smith, 42, says most of the lawyers work around their family and study commitments after being what she calls "economically inactive" because of inflexible work practices in traditional firms. Obelisk supplies legal solutions to numerous companies including Goldman Sachs, Vodafone, BT, Siemens, ING and Barclays, as well as law firms such as Linklaters and White & Case.
Denis-Smith was born in Transylvania, Romania, and worked as a journalist before moving to the UK on a Reuters scholarship. She studied at the London School of Economics before attending BPP Law School in London, then took a graduate role at Linklaters. She worked in the finance, commercial and employment sectors before starting her own business in emerging markets in 2008.
Denis-Smith was named Personality of the Year at this year's LexisNexis awards in the UK, and The Times named Obelisk one of the UK's top 50 employers for women in 2015 and 2016. In 2014, she launched the First 100 Years project in the UK and gave herself five years to create a large digital library charting the journey of women in law in the lead-up to the 2019 centenary of the change that allowed women to practise as lawyers. (Australia beat the UK to it by one year and you can read more at first100years.com.au.)
"It feels like I have two jobs – one at Obelisk and one on the First 100 Years project, as I spend at least a couple of hours a day on it," says Denis-Smith. "It is funded through donations and from the start I decided this has to be a project for the whole profession. Women being involved in the justice system is a bigger thing than saying we are a bunch of women lawyers celebrating women in law. Women in law have pushed change for women throughout society, not just the law."
Here Denis-Smith talks about how she juggles work and life.
"I get up at around 5am since my evenings have been eaten up by my daughter, who is seven. I have two coffees in quick succession. I quite like the quiet. The work varies and depends on whether I have a client-focused day or whatever is on the pile. I don't do the easy things in the morning. I do the things that need my thinking time – either Obelisk or First 100 Years. Then I drop my daughter off at school and I get into the office about 9.45 or 10.
My regular day is varied, which is something I really like. I travel abroad about once a month and but I have a rule that I travel only if I have to.
I grew up in Transylvania and feminism definitely did not count in my village. I had no knowledge of it, but as a child I had a sense of justice and right and wrong. When I was in high school I decided I wanted to be an international journalist, so I taught myself English.
My family were quite simple farming people and my dad had hoped for a son. He ended up with three girls and passed on this idea that just because you are a girl, you should achieve the same and do whatever you want. He told us that education would be our empowerment, that it would allow us to have our fate in our hands.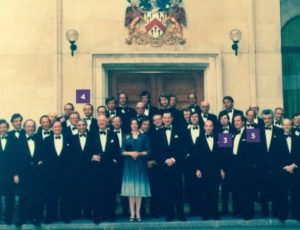 I got the idea for the First 100 Years when I saw a
photo in an alumni magazine of Herbert Smith in the UK
. My husband, who is a barrister, had spent one year there. There was an article about a partner who was turning 100 and he was talking about what his work had been like. The accompanying photograph, which was from 1982, was very strange – the most striking aspect was the one woman who was wearing blue and was surrounded by men in dark suits.
Something really hit me when I saw it. I hadn't given much thought to the work of women in the law. I wondered why there was only one woman. It got me thinking about the role and made me want to find out why there was only one woman. Then I realised they couldn't be lawyers – I knew nothing about the history of women in law at the time. That was when I decided to fund the project.
I initially funded it from Obelisk. I have the view that if you believe in something you should put money behind it. In 2016, it became a charity in its own right.
The most challenging part of Obelisk is having it growing so fast. The legal sector is a very closed sector; it has a tradition as a guild and it is a profession set up to exclude, not include.
Even though I was a lawyer, I am not a practising lawyer, nor an ex-partner of a law firm. Being able to punch above your weight all the time can be tough. It's about building and pushing a market for the business, being more visible, being present, being a player when in law being a player isn't always about your skills but who you know.
My job is also about educating clients that there is another way of working. We don't see keeping inflexible work hours as acceptable.
Most of the time when I have meetings, they are with men. The decision-makers are men, so whenever I lunch it is always with men. It reflects the power imbalance that still exists."
For more information on the First 100 Years initiative, visit first100years.com.au for the Australian project and first100years.org.uk for the UK project.
WHAT'S ON IN THE UK
In a world "first", on 5 July 2018, First 100 Years and Gray's Inn, London hosted 4 of the first women Chief Justices from 4 continents, including Australia's Chief Justice Susan Kiefel. Check out the highlights here: